1997 was when I got my first tie-dye shirt. I proudly pulled it on as my uniform as I performed on stages with Jim Valley and the
Rainbow Review
. I was what they called a Rainbow Rocker.
Jim
"Harpo" Valley was the lead guitarist in
Paul Revere and the Raiders
in the late 60s - but he changed from rock music to tunes about peace, love, and friendship.
Love that guy.
My family just pulled out this video and I got quite the amused laugh as I watched my 6-year old self rocking out to a drum and accordion solo.
I note the enthusiasm I had... a bit too much at time, perhaps, by standards, but I'm glad I had that much so as its faded a wee bit over time, I feel I've been left with enough energy to push me above normal-adult level. I still love to wiggle and squirm and dance without inhibitions.
I relish seeing my 6-year old self rock out in a propeller hat while I'm reminded that, "I am special. You are special. We're all special together."
Preach it, Jim. Preach it!
There is so much truth in those songs - many of which were written by kids.
Jim traveled around from school to school putting tunes to lyrics that classes wrote out.
"So let's build each other up, not pull each other down..."
"Bein' a friend and lending a hand is most important and certainly true."
And later on I got to tour around with just Jim himself.
A few years later, I got to be on one of his albums, "
Rainbow Garden
."
Yeah, rainbows are pretty wonderful things...
If you get bored of lil'Maggie's dancing, skip to 1:21 where impressive choreographed dance moves begin.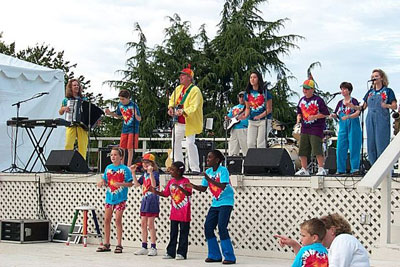 Still wearing the purple heart shirt - but a pretty different group of Rainbow Rockers.
Image Source: rainbowplanet.com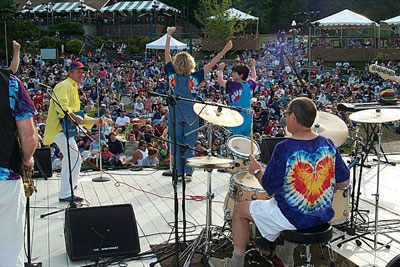 Love the crowd.
Image Source: rainbowplanet.com